Check Out Our Awesome Instructors!
John Narleski
KICKBOXING
8th Degree Black Belt
1991 New Jersey State Cruiser weight Kickboxing Champion
36 Years experience in Martial Arts
25 Years teaching experience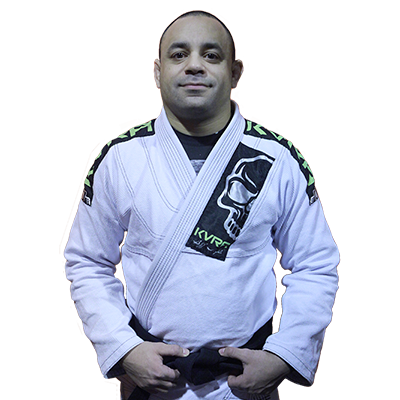 Tony Rivera
BRAZILIAN JIU-JITSU
Professor Tony Rivera began his Brazilian Jiu-Jitsu journey in 1998 and has had the honor of training with many world class champions and masters such as Renzo Gracie, Ricardo Almeida, John Danaher, Pablo Popovitch, Vagner Rocha, & Roberto "Cyborg" Abreu. In September of 2010 he received his black belt from World No-Gi Champion Pablo Popovitch. Recently Professor Tony won the No-Gi Expert Class competition at NAGA's Battle of The Beach this past August for the second straight year. He also received a Bronze medal in the 2012 Pan American Championships in New York City and a Silver Medal in this year Pan American Championships.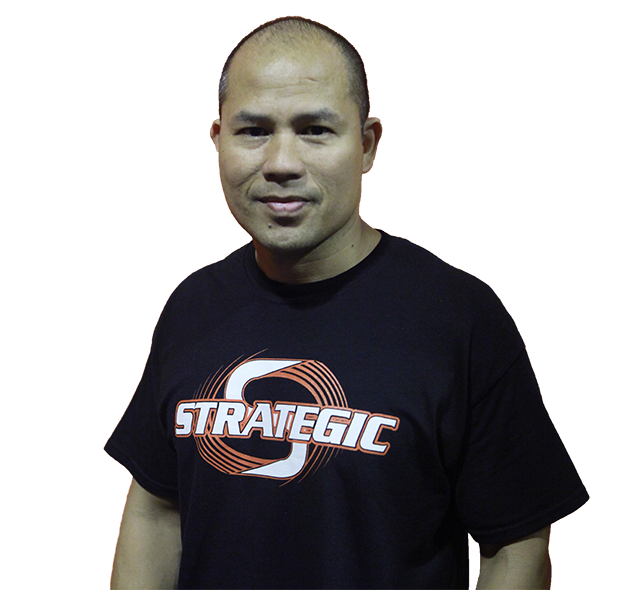 Mel Martinez
MUAY TAI
After only 2 years of competing in Boxing on the amateur level, at 16 years of age, Mel started Boxing professionally and established a record of 10-2. Age 22, he decided to switch to Muay Thai Kickboxing and traveled back and forth to Thailand to learn the art and start competing in the sport. As a professional Muay Thai fighter, Mel competed 6 times in the Philippines and 6 times in Thailand and completed his career with a record of 10-2. Currently Mel teaches Muay Thai at Strategic Academy and enjoys sharing his knowledge and techniques with students of all background levels.
Ryan Rizco
LITTLE WARRIORS MMA & BOOTCAMP
Ryan is an active Mixed Martial Arts fighter and Personal Trainer. Coming from 11 years experience in wrestling he transitioned to MMA while receiving his blue belt in Brazilian Jiu Jitsu under Professor Tony Rivera and studying traditional Muay Thai. Finding a passion for Martial Arts and Fitness , Ryan began pursuing his career by studying anatomy and physiology while receiving Nationally recognized certifications in Personal Training , Kettlebell Training , Mobility, Nutrition and CrossFit.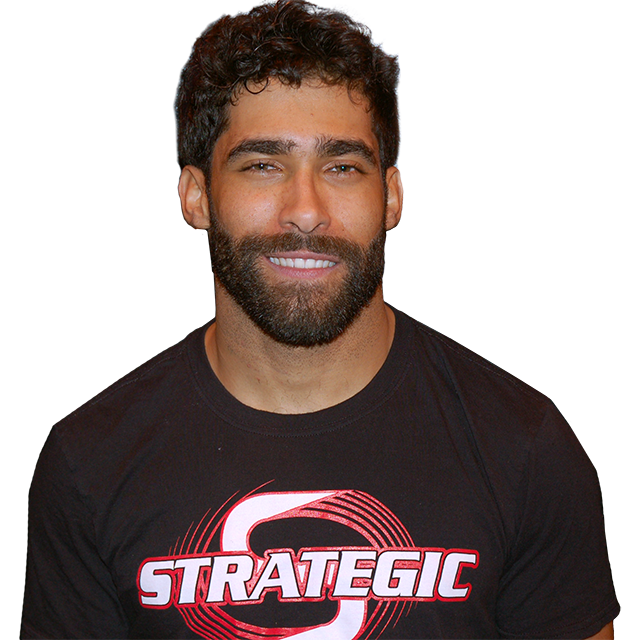 Nestor Negroni
LITTLE WARRIORS MMA
Negroni is a 15 year veteran in Mixed Martial Arts.  He has a black belt in Taekwondo and Hapkido and also studies boxing, kickboxing, brazilian jiu-jitsu, muay thai and wrestling. Nestor specializes in personal and group training.  He also runs our children's Little Warriors MMA program.  There is never a dull moment in any of his classes. Not only does he focus on technique, he is extremely passionate and makes each class fun while accommodating students of all levels. Sensei Ness is very dedicated to martial arts and making sure every single student succeeds inside and outside of his class.
DAVID JANNSEN
LITTLE WARRIORS BJJ
David Janssen is currently a purple belt in Brazilian Jiu-Jitsu under Professor Tony Rivera. He started his BJJ journey in 2012 under Professor Alex Rocha and  fell in love immediately. Training under Professor Tony Rivera at Strategic MMA for 3 years, he became an assistant trainer in Brazilian Jiu-Jitsu. His hard work, passion and dedication to the art, has become his drive to passing it down. David is now a coach and teaches the beginner bjj for adults and Brazilian Jiu-Jitsu classes in our youth Little Warriors MMA program. If you want to find David, look for the the biggest smile in the room, he will always greet you with one. We are proud to have David as a part of our family.
 " I realized I love teaching BJJ just as much as learning. Now I continue my journey to not only be a better student but a better coach"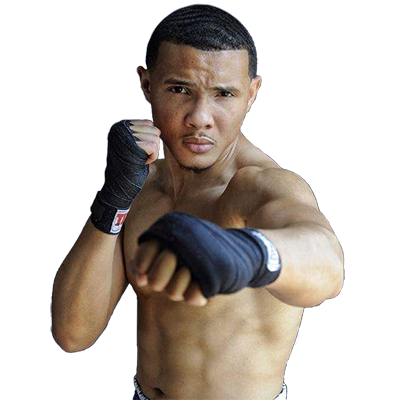 HAKIM BRYANT
BOXING
One of the top professional boxers in New Jersey today and with over ten years of boxing experience under his belt Hakim combines his knowledge in the ring with his knowledge of fitness to offer a unique Boxing/Conditioning class.
3x New Jersey State Champion
2x Golden Glove Champion
Undefeated professional boxer
4 years of personal training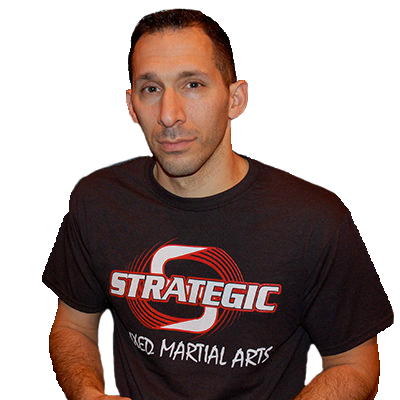 JOE CASESSA
BOXING
19 years boxing experience
Former boxer in NY/NJ
U.S.A Boxing Coach N.J.
CPR, AED and First Aid Certified
Certified Personal Trainer
Trainer to professional boxers and MMA fighters.
Fighter conditioning coach
Group class instructor and one on one sessions for all ages and skill level.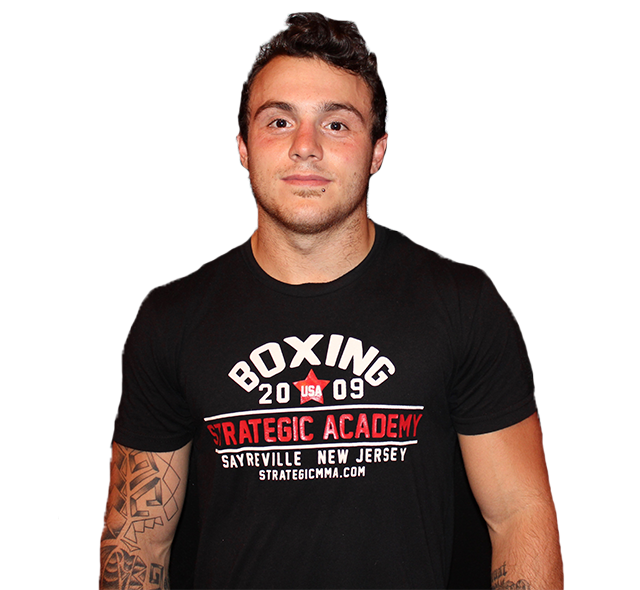 Rocco Salimbene
BOXING
14 Years Boxing Experience
9x State Champion
7x Diamond Gloves Champion
2x Golden Gloves Champion
2x Northeast Regional State Champion
Former Nationally Ranked Amateur Boxer
Registered USA Boxing Coach
1-0 Professional Boxing Record
GERARD PEREZ
WRESTLING COACH
Competitive Accomplishments:
NJ HS Freestyle/Greco  State runner up
NJ HS NationalTeam Member
2x All Navy campion
20+ years of competition experience
Coaching Experience :
10+ years of coaching experience on state, national, and world level platforms.
Hammer wrestling club
CJA wrestling club
Team NJ Freestyle & Greco
National team staff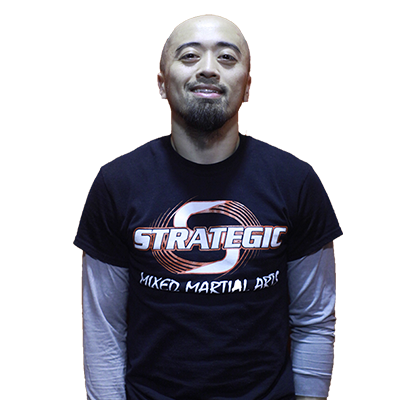 Nino Perez
PRIMAL MOVEMENTS
A certified "Animal Flow" Instructor and an instructor at Strategic since 2014, Nino Perez is the primal movement instructor at the gym. His training focuses on helping students achieve better mental and physical health through improved mobility, posture, more flexibility and safe conditioning.
Nino discovered the benefits of primal movement when he was searching for a training method that would help with the injuries that he had gotten from these sports. He wanted add to his fitness regimen a workout that would help heal, increase mobility, achieve greater flexibility, enhance stability and yield better endurance.
Nino began his traditional martial arts training in 1995 and has a black belt in a Hwa Rang Do.